Hatboro &
Quakertown
Premier Hardscaping &
Landscaping Company
Paver Ideas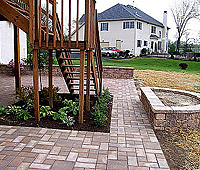 Your yard and garden spaces see a lot of wear and tear and it also means you need to choose resilient and durable materials that will also add to the beauty and value of your property. This is where pavers come into the picture. They are extremely strong and hardy products that are extremely versatile too.
Piracci's Landscaping provides excellent paver installation services to customers in and around Doylestown, Quakertown, Coopersburg as well as Center Valley. They have also handled a large number of projects across Solebury, Harleysville, Perkasie, Tinicium, Pennsburg and Redhill. The different types of materials they can install are:
Paving Stones
If you have very vast areas that need to be covered in the landscaping, paver stones are an excellent option. These units are larger in size than regular pavers and they could be made of natural stone, brick or concrete. These units could be made of slate, sandstone bluestone, travertine etc. and the stones can be either rough cut or machine cut, based on the look that's required.
Patio Pavers
The patio you get installed on your property is largely exposed to the elements and when you choose any materials for this installation, they need to be tough and hardy. Pavers become the ideal material for most outdoor spaces and they can be used for driveways, walkways, pathways, patios, decking and poolscapes etc.
Concrete Pavers
If you want outdoor spaces that look great and are long-lasting you should opt for concrete pavers. These are available in a range of designs, shapes and sizes.  There are a number of colors to choose from and you also have the option to get interlocking pavers installed. These are installed on compacted sand and you can also get them sanded and sealed.
Brick Pavers
Brick paving is a very popular material and it's used in commercial and residential landscapes alike. It available in the traditional brick red color as well as in a number of other colors too.  You can choose ones that look best for your landscaping.  Brick paving is hardy and long-lasting and it is a low-maintenance material that adds to the value of your property.
Paver Stones
Paving stones are excellent flooring installations that can be used in various outdoor spaces. These stones could be made of travertine, slate, sandstone, bluestone, flagstone etc. they can be of any size and shape and  you can choose from rough cut or machine  cut ones too. 
Driveway Pavers
The driveway on your property is exposed to a great amount of wear and tear and it sees foot and vehicular traffic. The one way to ensure the longevity of this installation is to get high grade driveway pavers installed on it. These could be made of concrete, brick or natural stones.
If you want excellent paving solutions, it's important that you hire the services of a company that provides you with all-round solutions, like Piracci's Landscaping at reasonable landscaping cost. A well-designed landscape adds to the beauty, functionality and value of the property.
<< Back to ARTICLES
We Provide Services to the Following Cities and Towns in PA:

Contact Us