Paving Services in Solebury, PA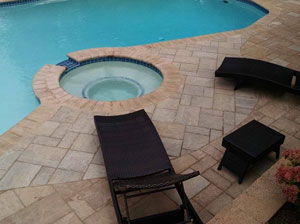 The stability, integrity, and durability of a landscape depend on various aspects. Not only do you need proper designs and plans, but the features need to be constructed using suitable quality materials. For this to happen, you need the services of proven and expert landscape contractors like us at Piraccis Landscaping.
We offer high-grade landscaping solutions to residential and commercial clients in Solebury, PA. Our team of experts is here to help with every aspect of designing and planning your landscape. They make sure that all features are the perfect addition to your property. The range of services we offer includes:
LANDSCAPING USING PAVERS
Pavers are a popular material used in landscaping projects. They can be used on commercial and residential landscapes for features such as patios, decks, fireplace zones, driveways walkways, pathways, and more. You can choose from pavers made of concrete, brick, or natural stone.
Paving is available in a wide range of colors, textures, styles, sizes, and shapes. Our designers are here to provide you detailed information about these products and their qualities. They will also recommend which one would work best in your landscape project in Solebury, PA, to improve the appearance and functionality of the outdoor spaces.
COMMERCIAL LANDSCAPING
We offer a wide range of landscaping services and cater to institutional and commercial clients. In addition to outdoor spaces, we also handle streetscape projects to industry standards. Regardless of the scope of the job, our team is here to help. We can handle the removal of old dead trees, ripping out concrete play yards as well as clearing the site for new landscape construction in Solebury, PA.
Our team of experts will design and install features such as paver driveways, privacy fences, walkways, decks as well as entryways, courtyards, and more. We handle everything from land clearing and grading to excavation as well as construction of various features on commercial properties.
COMPLETE OUTDOOR LIVING SERVICES
As well as hardscaping and softscaping, many other features improve the appearance and functionality of the outdoor spaces on residential or commercial properties. Since every homeowner or commercial business owner will have specific requirements about what they want the outdoor areas to look like, we offer customized services. Our team can design and install architectural elements such as statuaries of animals, angels, fairies, and other characters.
We can also create a very earthy and rustic look on your property using materials such as brick, natural stone, and more. Various fire pit and fireplace zones can also improve the appeal and functionality of your landscape. Many of our landscape projects also include decorated masonry installations in Solebury, PA, beautiful pillars, stone caps, columns, and more.
BASEMENT WATERPROOFING SERVICES
While we are the landscaping experts that commercial and residential clients in Solebury, PA, prefer for all their projects, we also offer a wide range of basement waterproofing solutions. Some of the services our company provides include installation of French drains, wall sealants, sump pumps and battery back-ups, window wells, and interior and exterior drainage systems. We also handle crack and wall repairs in, Solebury, PA, grading, install swales, and yard drains as well as sum lines piped underground and downspouts.
Also, we install Egress Windows, Replacement Basement Windows, and Bilco Doors Systems. For any more information about our custom landscaping services in Solebury, PA, feel free to contact Piraccis Landscaping at 215-541-9202. You can also send us your requests through this Online Form.