Pool Decks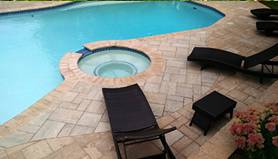 Having a pool in your backyard will make it relaxing and inviting, particularly during the summer when days and nights can be too hot or humid. However, it must have complete amenities so it can be fully functional and favorable for rest and relaxation. One feature that you must have installed is a pool deck made from your choice of materials. The good news is that we at Piracci's Landscaping, Inc. can install custom pool decks that are functional, beautiful, and slip-and-fall safe. We have become the company of choice for Pennsylvania clients who demand unmatched installation skills and creativity. Our in-house designer and craftsmen have installed countless pool decks in private residences and business establishments across Bethlehem, Center Valley, Coopersburg, and Quakertown, PA. We're known for our consummate craftsmanship and adherence to proper installation procedures, which makes us highly successful in creating outdoor features that are stunning, long-lasting, and functional. Call us today for more details on our deck installation services.
Wood Decks
For property owners who want a look that is closest to nature, wood is the best pick of material. Wood decks are unbeatable when it comes to evoking the feeling of being one with nature. Its subdued appeal makes it effective in making one feel a homey vibe when spending time at the deck area. We can use different hardwood species such as mahogany, teak, redwood, and cedar – all commonly used for above ground pools. Our personnel can create custom-designed pool decks to suit your needs and design preferences. We can also go for custom patterns since wood is very easy to cut to specific shapes and sizes for a personalized look.
Deck Pavers
Concrete deck pavers are highly popular, cost-effective but long lasting deck materials. They also allow for many great design options, hence making them the material of choice for custom projects. Such pavers are perfect for property owners looking for a tough decking material that is not a push-over in the looks department. With us, excellent installation is guaranteed since we have certified installers working for us.
Natural Stone Decks
If you're aiming for natural appeal and long lasting benefits, then natural stone is the ideal material to use for your pool deck project. Our company uses various natural stones such as sandstone, limestone, quartzite, and porphyry. Our crew members have installed many such natural stone decks in pools located in private residences, as well as hotels, resorts, and other business areas with accommodations for tourists, businessmen, and travelers. Our pool decks are praised for their immense beauty and functionality, which makes our clients' pool areas more inviting and safer for occupants.