Bluestone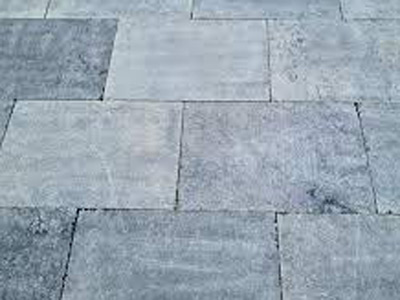 Hardscaping is a combination of various materials, both natural and manufactured, used to create functional and attractive outdoor spaces. While new products and materials are abundant in the market, classic materials such as natural stone remain popular. Natural stone offers unique, timeless beauty that synthetic materials cannot replicate.

Natural stone is durable, low-maintenance, and can withstand various weather conditions. Moreover, it can be easily incorporated into different landscape designs, from traditional to contemporary. Thus, while newer materials may come and go, natural stone will remain a favorite in hardscaping projects due to its many benefits and enduring appeal.


What Is Bluestone?
Bluestone is a natural stone commonly used in hardscaping and landscaping projects. With a dense and durable structure, you can often find it in shades of blue, gray, or green. Its appearance can range from smooth and consistent to rugged and irregular, depending on its cut and finish.

The stone is incredibly versatile, and skilled hardscapers use it in various outdoor features, including patios, walkways, pool decks, and retaining walls. Its natural beauty and durability make it a popular choice for residential and commercial applications. Piracci's Landscaping, Inc. offers high-quality bluestone installations using pavers and stone slabs for various outdoor spaces.


Why Use Bluestone in Your Landscape or Yard?
Natural stones like bluestone are popular in hardscaping projects for several reasons, including the following:


The stone offers a unique and natural aesthetic appeal, adding character and texture to any landscape design.
It is incredibly durable and resistant to weathering and erosion, making them ideal for high-traffic areas and outdoor spaces.
This stone is easy to maintain, requiring little upkeep and retaining its color and texture over time.
It is sustainable and eco-friendly, as it is quarried rather than manufactured using artificial materials.
This and other natural stones are ideal for beauty, durability, and sustainability, making them a popular choice for hardscaping projects. We have over three decades of experience handling all types of hardscaping projects, and our team has worked with Bluestone on many of them.


High-Quality Bluestone Installation Services
Bluestone is a genuinely excellent material that can be used to enhance the beauty and functionality of multiple outdoor spaces and structures. We provide the highest quality bluestone material and installations for residential and commercial properties.

Our experienced team is dedicated to helping our clients achieve their desired results, and we offer customized solutions to fit each unique project. If you want to learn more about our bluestone design and installation services, don't hesitate to contact Piracci's Landscaping, Inc., at 215-541-9202 or by filling out our Online Form. Our team will be happy to assist you every step of the way.