Patio Pavers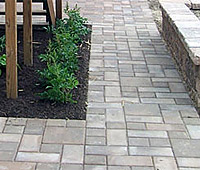 For decades, our company has been creating stunning and functional outdoor amenities for Pennsylvania homeowners. We can build outdoor living features such as patios, decks, outdoor kitchens, and other outdoor living spaces. We also add well-designed pathways and walkways in strategic spots in our client's property to improve accessibility in the area. If you also want to improve the aesthetics and functionality of your outdoor space, just contact us at Piracci's Landscaping, Inc. We have expert people who can design and build your dream outdoor amenities at reasonable rates. We build these structures using the finest materials like pavers and natural stones. These materials are tried and tested for their durability and design flexibility. A simple patio, for example, can become a focal spot in your property by using topnotch patio pavers. Pavers are also perfect for other outdoor features such as decks, walkways, and other paved surfaces. Call (215) 541-9202 now if you have more questions about our design and build services. We primarily serve Pennsburg and other key areas in PA like Bethlehem, Center Valley, Coopersburg, and Quakertown.
Patios
Patios are common features in residential properties. This type of outdoor living space can be attached to the house or built as a stand-alone feature in a landscaped area. At Piracci's Landscaping, Inc., we can custom design your patio and install it in the perfect spot in your backyard. We also use premium quality patio pavers to ensure its excellent construction. Pavers are perfect for your patio because they are available in a wide range of designs and proven durable. You can also choose a specific paver theme to highlight the beauty of your patio, home, or entire landscaping.
Decks
Do you have a backyard swimming pool that needs a makeover? If yes, please call us so we can suggest changes that will dramatically improve your pool's aesthetic appeal. Our typical solution is to build decks around pool areas. This will not only make the area safer but also favorable for outdoor activities. Interlocking concrete pavers are best used for pool decks because of their slip-resistant qualities.
Walkways
At Piracci's Landscaping, Inc., we don't just create ordinary walkways. Our creative team knows how to make these vital landscape features attractive and long-lasting. Every walkway that we install in our client's property is well-designed and built using top-quality materials. The walkway materials that we highly recommend are bricks, stones, and concrete pavers. The latter is a more popular option since pavers are affordable and available in various designs, colors, patterns, and finishes. Just like patio pavers, these pavers will transform your walkways into awesome features. 
Pathways
Installing pathways in strategic locations in your property will result in a more accessible and safer outdoor area. However, the reliability of this structure largely depends on the skills of your contractor. A poorly built walkway may crack easily so you need the services of well-experienced installers like us. We have skilled people, complete tools, and decades of experience in hardscape installation. Most of the pathways we build for PA clients are made from premium concrete pavers. We prefer these materials because they are easy to install and maintain. We can also come up with highly personalized designs without compromising quality workmanship.