Retaining Walls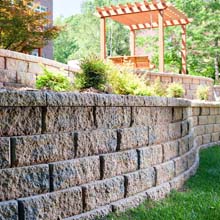 Retaining walls are vital installations in your property. These features will make your outdoors safer and more functional. If you are aiming to improve the aesthetic appeal of your landscape or outdoor space, installing a retaining wall system is an excellent solution. You won't regret installing one in your property since this type of structure can dramatically improve the appeal and function of any space. But you can only enjoy all these benefits if you hire a competent retaining wall builder like us at Piracci's Landscaping, Inc. We have decades of experience designing and building sturdy retaining walls for our residential and commercial clients across the state. In fact, most of our landscaping projects in Pennsylvania include retaining wall installation. If you want to get the services of well-experienced professionals, please call us today at (215) 541-9202. Some of the areas we serve in PA include Bethlehem, Center Valley, Coopersburg, and Quakertown.
Concrete Block Walls
Majority of the retaining walls that we install in residential properties are made from concrete block walls. Most property owners prefer this type of material because it is durable, easy to install, and cheaper compared to other retaining wall materials. At Piracci's Landscaping, Inc., we use only top-quality blocks from trusted suppliers and manufacturers. This means you will have a sturdy wall that can withstand extreme weather conditions and other harsh outdoor elements. The walls that we design and build have the capability to prevent soil erosion, particularly in properties situated in hilly areas. Aesthetics will not become a problem when you choose concrete blocks since they are available in various colors, finishes, and styles. You can even request for a specific theme to highlight the beauty of this outdoor structure.
Boulder Walls
The installation of boulder walls in your property must be handled only by professional installers like us at Piracci's Landscaping, Inc. The job requires expertise, specialized tools, and the use of appropriate installation techniques. Attention to details is also a must when using boulders on your retaining walls. Each boulder must be carefully installed to ensure the integrity of your wall. We also consider other important factors such as the length, height, and function of the wall. These structures are commonly used for sitting areas, fire features, and outdoor living amenities.
Stone Veneer Walls
Stone veneers are excellent decorative materials for your walls. They have unique textures, colors, and sizes. You can use these materials to transform a drab-looking wall into an elegant spot in your property. If you want to maximize the aesthetic benefits of stone veneers, let us help you. Our people will suggest the right type of stone that will complement with your wall's design or style. The stone veneer walls that we build are eye-catching and designed according to client's preferences. We source our stone veneers from trusted suppliers in the region so your walls will be made from the finest materials and supplies available. We also recommend the use of thin stone veneers since they are easy to install, durable, and long-lasting. Just let us know your preferred stone type and we will find the right stone veneer for your retaining walls.