Erosion Control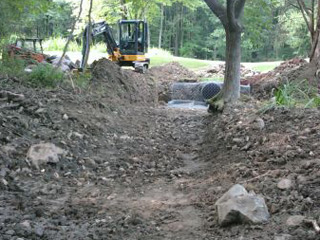 Piracci's Landscaping provides comprehensive erosion control solutions. We have the knowledge and expertise to help you with services that meet industry standards. Our crew combines current technology and digital tools to deliver accurate take-offs and cost-effective quotations to help you stay within your budget.

If erosion control systems are not properly designed, built, and maintained, construction operations like grading and bulldozing can cause significant issues. Successful installations by our company help mitigate these possible environmental issues.

We develop and implement low-maintenance, extremely effective erosion, and sediment control plans. Whether you need to manage existing erosion concerns or raise property value, we can build a thorough strategy that will withstand the test of time.


Range of Erosion Control Solutions
Our company helps clients tackle environmental and construction difficulties through a variety of means, including:


Super silt fence/ silt fences- We install these with strong wooden stakes along the property's or construction area's boundary to help prevent sediment washout
Silt sock- Silt sock is made of small woodchips wrapped in mesh to help in sediment washout control
Pond baffles
Compost filter stock installation
Matting installations
Slope and soil stabilization
Erosion control blankets
Hydroseeding
Modular or PennDOT E&S walls
MSHAYellow and Green Cards
Lawn and Yard Stabilization
Most residential and commercial properties in the region have lawns, and these spaces also suffer from soil erosion issues sometimes. We offer excellent lawn stabilization services and do this in one of two ways- sod installation or hydroseeding.

The results are identical; however, the process used varies dramatically. The significant differences are in cost and time taken. It takes far longer to establish a hydroseeded lawn compared to sod installation. However, you get a wider variety of grass seed varieties than sod, with a lower initial installation cost than the former.

If you are unsure which option is more suitable for your backyard lawns, please call us and discuss your requirements with our experts. They will visit your premises, survey the space, and help you with the best recommendations to mitigate or fix your lawn erosion problems. We work committedly with residential and commercial clients offering customized solutions at cost-effective pricing.


Why You Need Erosion Control Solutions
We can mitigate construction-related issues such as soil erosion, water contamination, floods, slope failures, and damage to downstream or neighboring properties by applying erosion and sediment management techniques. These techniques aid in the prevention of soil movement or loss, improve the aesthetics of the project and reduce harm to off-site receiving properties or channels.

We provide a choice of options for outdoor areas that are susceptible to erosion and sediment management during new development and construction. Our company also helps customers with erosion control services on existing properties. These tasks involve careful planning and installations that will not damage any of the surrounding elements and features in the landscape or yard.

For additional details about our customized residential and commercial erosion control services, please get in touch with Piracci's Landscaping at 215-541-9202. You can also send us your requests through this Online Form.