Stream Restoration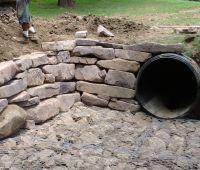 Do you have a stream, stormwater run-off or retention basin? Do you have a bridge, embankment, headwalls or wing walls? If you answered YES to any of these questions, then, Piracci's Landscaping, Inc. is just what you are looking for. Correct these problems before it is too late, there are many solutions, maintenance and updates that can be done before your bridge collapses or your embankment erodes away. We offer complete stream bank restoration. We will acquire all permits, create plans and deal with all inspections for you. Contact us today to set up a free consultation and written estimate.
Embankment Erosion & Bank Shifting,
Sand & Gravel Bar Removal
Corrective Stream Flow
Naturalistic Boulder Walls
Native Plantings & Coconut Fiber Logs
Gabion Baskets
Rip-Rap Installation
Bridge Footing Failure & Repair
Retention Basin Maintenance
Our Stream Restoration Solutions
As mentioned, small damages to stream embankments or retention basins must be immediately and properly repaired. We have encountered past clients who neglected to perform this simple preventive maintenance procedure only to spend a great deal of hard-earned cash due to resulting damages to their various landscape features. So it's only wise on your part to call a stream restoration company when you noticed any structural defect in your embankment, boulder walls, or retention basins.  Here are some of our solutions:
Embankment Erosion & Bank Shifting. Many of our past clients in Bedminster, Dublin, and nearby PA cities call us to remedy their eroding embankments or shifting stream banks. As part of our comprehensive stream restoration services, we can repair damaged embankments, as well as correct shifting banks to avoid further damage to the structures and to nearby landscape features.
Sand & Gravel Bar Removal. Over time, sand and gravel accumulate along the stream and become what is called sand or gravel bar. Not only can this be an aesthetic concern, but it could also hamper the free flow of water in the stream. We're here to make sure that this issue is addressed properly and quickly.
Corrective Stream Flow. If you've noticed the course of your stream to be geared towards the wrong direction or in a course that would damage or affect adjacent landscape features, we're the right people to call to solve it. We have performed expert corrective stream flow for past clients, both in commercial and residential properties.
Naturalistic Boulder Walls. Our company has designed, installed, and repaired countless naturalistic boulder walls in private residences and commercial spaces. We have access to top-notch and stunning natural boulders, so we can source your desired boulders and install them just the way you like.
Native Plantings & Coconut Fiber Logs. We can place native plantings and coconut fiber logs along your stream and embankment to prevent erosion and even enhance the general aesthetic appeal of your outdoors. We use only high-quality plantings and coconut fiber logs to ensure the utmost bank stabilization and protection.
Gabion Baskets. Gabion baskets are another excellent form of protection against soil erosion along river banks and other areas with flowing water, such as artificial and natural streams. Our stream restoration offerings include the repair and installation of gabion baskets using only durable stones and boulders.
Rip-Rap Installation. We can install sturdy rip-raps that will double as aesthetic accents to any landscape setting. Using only the finest materials, we will make your outdoors safe from erosion and water incursion.
Bridge Footing Failure & Repair. Our company has performed preventive and emergency repair works on bridge footings. You can count on our expert crews to render professional bridge footing failure and repair services that will ensure the structural soundness of your landscape bridges.
Retention Basin Maintenance. A retention (wet) basin must be properly and periodically maintained to allow it to effectively reduce sediments and pollutants. Our skilled crews know how to ensure their great shape, so you can be sure that your retention basin will do its function all year round.
Reliable and Effective Solutions
We guarantee reliable results in all the solutions that we enumerated above. Our company has rendered stream restoration services to countless Pennsylvania clients in the past, so you're sure that we know which method to use for your specific concern. Each technique is guaranteed done by skilled people fully equipped with the right equipment.
Please call us today for professional stream restoration services at affordable rates.