Hardscaping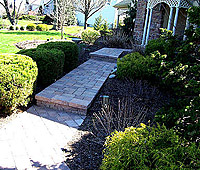 At Piracci's Landscaping, Inc. our hardscaping services consist of, but are not limited to:
Patios
Terraces
Pool Decks
Driveways
Walkways
Aprons
Overlays
Segmented Block Retaining Walls
Boulder Retaining Walls
Natural Stone Walls
Brick & Stucco Walls
Timber Walls
Pillars, Piers, & Mailbox Posts
Here are a few materials we use regularly, but there are many more available:
Concrete Pavers, Clay Pavers, Permeable Pavers & Rubber Pavers, Brick, Flagstone, Bluestone, Travertine, Granite, and Quartz.
Why Choose Piracci?
There are a lot of good reasons why you should choose us for your hardscaping project. For one, we have more than 30 years of experience in the landscaping industry, making us one of the most experienced contractors in Pennsylvania. Hiring people like us is always an excellent option because you are assured of quality workmanship regardless of the simplicity or complexity of the tasks. The skills of our people are honed by their decades of experience in designing and building different types of landscapes. With their unquestionable skills and in-depth knowledge of the different techniques and methods, you will surely get your dream hardscape features and amenities.
If you want to be assured of an excellently done hardscaping job, hire Piracci's Landscaping, Inc today. You can call us at (215) 541-9202 or visit us at our Pennsburg, PA office during your most convenient time. Don't hesitate to ask our friendly staff about your concerns and our range of services.
Real Hardscaping Experts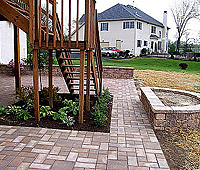 Some contractors in PA may claim that they are experts when it comes to hardscaping. However, you have to be cautious when hiring one since not all of them can deliver outstanding results. Hardscape projects typically involve the design and installation of masonry features, so your contractor must have proper training, the right skill set, and complete resources. If your chosen service providers lack any of these vital qualifications, then you should reconsider your decision. Remember that your project involves the installation of permanent structures, which may require a huge budget to materialize. Getting poorly installed structures can lead to costly repair and maintenance jobs. They can also result in accidents and cause property damage.
But why worry about these problems if you have the option to hire a reputable and tested hardscape contractor like us at Piracci's Landscaping, Inc. We have all the qualifications you need from a reliable contractor. Our past and present clients can attest to our competency and ability to work on all kinds of outdoor features. Aside from our competency, we also adhere to strict quality standards and use proven installation techniques to ensure the durability and long-lasting qualities of our installed structures. Rest assured that we never use substandard materials in our hardscaping projects, whether they are in residential or commercial properties.
Guaranteed Functional and Attractive Hardscapes
At Piracci's Landscaping, Inc., we declare the job done only when the client is satisfied with the results of our work. We always follow the project's specifications to give clients their dream hardscape amenities. And with the skills of our people, you are guaranteed functional and attractive hardscape features. We use only premium quality materials from our partner suppliers. Our suppliers are some of the leading manufacturers of hardscape products in North America, so product quality is always guaranteed. Moreover, you will enjoy choosing from a wide range of product designs that are also packed with modern features. The materials we typically use in our hardscaping projects include pavers, bricks, natural stones, wall blocks, hardwood, stucco, boulders, and other decorative concrete materials.
Call us today for a free quote or consultation. Piracci's Landscaping, Inc. can be your ally in realizing your dream outdoor space.