Pavers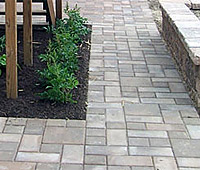 Pavers are excellent materials for outdoor features because they are easy to install, maintain and repair. Most importantly, you can achieve a truly unique appeal and stunning effects with the right paver combinations. But to enjoy these wonderful benefits, you must first hire professionals to carry out the installation project. Here at Piracci's Landscaping, Inc we have 30 years of industry experience serving property owners in Bethlehem, Center Valley, Coopersburg, Quakertown, and surrounding regions of PA. We can create your dream paver features just the way you have always envisioned them. We guarantee our work and ensure attention to the smallest details so you can expect world-class paver features that will make your property stand out effortlessly.
Interlock Pavers
Interlock pavers are the most common and most affordable paving materials that we use. We recommend them because they are very cost-efficient. They are easy to installed and have very low maintenance requirements. Additionally, they are proven to be very sturdy as they can remain in tip-top shape despite being exposed to freeze-thaw cycles. Our company has certified paver installers who will work with you to determine your desired design. We can add beauty and functionality to your yard by using the finest interlocking concrete pavers available.
Natural Stone Pavers
If you're aiming for proven durability but with elegant appeal, we suggest you go for natural stone pavers. These materials are best for driveways, walkways, decks, and patios. Natural stone pavers evoke the feeling of being truly close to nature, which makes them very popular among nature-loving property owners. They also come in various colors, shapes, sizes, and textures so it's easy to achieve a highly custom look. We source them from the best quarries in Pennsylvania and nearby States so you can expect only the finest ones to be used on your dream outdoor amenities.
Flagstone Pavers
Flagstone is traditionally used for patios, decks, walkways, walls, and even roofing. It comes in different colors such as blue, red, brown, and gray and also offers different shapes, which makes it ideal for clients who like to be unique. This stone type is also favored for its slip-resistant surface, hence serving as an ideal choice for pool surrounds, walkways, and other areas frequented by people. Flagstone pavers can be derived from various natural stones like bluestone, sandstone, slate, limestone, and quartzite. We will carefully select the right type of stone to let you enjoy stunning and long-lasting paver features.
Travertine Pavers
Aside from the materials already mentioned, we also install travertine pavers in commercial and residential properties. Travertine comes in three types, namely: honed, filled, and tumbled, and in two cuts; Vein and Fleuri. It is likewise available in a wide range of color tones such as gray, yellow, brown, beige, red, cream, gold, and many others. Additionally, it is known for its exceptional durability, which makes it ideal for high-traffic areas such as driveways, pool decks, and walkways. All the travertine-paved structures in our clients' outdoors are installed only by our skilled stone masons, so you can be sure that only qualified hands will work on your dream paver features.
Please call us now at (215) 541-9202 to learn more about our paver installation services.