Outdoor Kitchens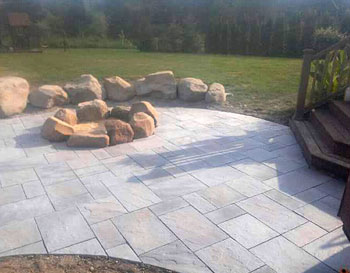 An outdoor kitchen is still the best feature to add in your backyard. This amenity practically extends your indoor kitchen into your yard – which simply means that you can cook, serve, and enjoy hot meals and desserts with cool outdoor breeze. And we're not talking about just a simple BBQ grill, but a complete kitchen setup. You can enjoy all these benefits by hiring a professional kitchen builder like us at Piracci's Landscaping, Inc. We have built some truly stunning and well-appointed outdoor kitchens in the past, so we are confident that you will be satisfied with our work. In fact, the kitchens that we've created for property owners in Bethlehem, Center Valley, Coopersburg, and Quakertown, PA were regarded by clients and peers as outstanding in form and function. So if you demand only the best benefits from your dream outdoor kitchen, you only have to call us and we'll be glad to discuss your project requirements.
Barbecues
Barbecues are mainstays in campouts, weekend get-togethers, and other socialization activities between family members and friends. Some of the popular BBQ menus are chicken BBQ, grilled steaks, hotdogs and sausages, briskets, and baked clams. Cooked right, these menus will surely make everyone's tummy full and truly satisfied. But to ensure that the barbecues are cooked to perfection, you should first choose the right type of BBQ grill. Some of the BBQ grills that we recommend and install are Primo Oval, PK Grill & Smoker, Holland Freedom, Char-Broil Charcoal, Weber Spirit, and Engelbrecht Original Braten Campfire Grill. For those who demand a sturdy barbecue, we recommend Primo and PK, while those who need a straightforward machine should go for Char-Broil and Engelbrecht. Just tell us your preferences and we'll help you zero-in on the perfect barbecues.
Grills
We only install top-quality grills for clients' outdoor kitchens so they can enjoy sumptuous meals any time. Some of the top brands that we use and recommend are American Outdoor Grill (portable and built-in types), American Muscle Grill (all kinds of fuel), and Weber (electric, gas, charcoal). Our actual recommendation to clients will depend on their budget, preferred type and fuel (portable or fixed; gas, charcoal, or electricity), and expected functions/benefits. We have access to the finest grills in the market so getting the exact ones that clients demand is easy on our part. All you have to do is call us and tell us your requirements and budget and we'll source the right grill for you.
Pizza Ovens
If you or your family loves to eat pizza, why not have a pizza oven right in your own yard so you can prepare your own pizza menu and enjoy it while it's hot? We install premium-quality pizza ovens from leading manufacturers. The different sizes of ovens that we can install range from 14" to 38". We can install pre-built ovens and we also offer custom-built ones if desired by our client. We can also offer various fuels for the ovens such as wood, coal, and natural gas.
Please call us now at (215) 541-9202 to get more details on our custom outdoor kitchens and other kitchen accessories.