Travertine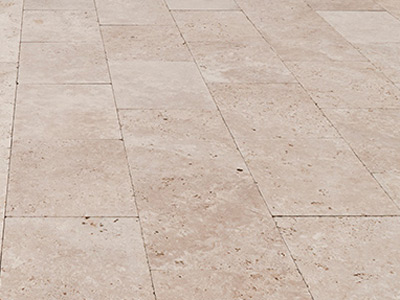 It's crucial to have a well-thought-out design and carefully chosen materials to create a visually appealing and functional outdoor space. When it comes to hardscaping, selecting suitable materials for surfaces like poolscapes, patios, and decks is essential. At Piracci's Landscaping, Inc., our designers highly recommend travertine pavers for residential and commercial outdoor living areas in and around Hatboro & Quakertown.

Travertine, a natural stone in various colors, is renowned for its unique porosity that keeps the surface cool year-round. This eco-friendly material also allows water to penetrate the ground, replenishing the water table. It comes in unfilled/tumbled and filled/honed varieties, allowing you to choose the perfect style for your outdoor space.


Areas Where We Install Travertine Pavers
We have experience installing travertine pavers in small residential yards and expansive commercial landscapes, ensuring your project is executed flawlessly. Travertine pavers offer tremendous versatility, making them suitable for various outdoor spaces, including:
Driveways
Walkways and Pathways
Sidewalks and Steps
Patios with different designs like curved, straight, or sloped
Outdoor BBQ Kitchens
Planters and Boundary walls
Front, Back, and Side Yards
Letterboxes and Pillars
Walls and Retaining Walls
Pool decks
Small Garden Walls
These pavers are available in various sizes, thicknesses, colors, and finishes, allowing you to create the perfect outdoor space that suits your taste and requirements. Whether you want to revamp your outdoor area or create a brand new one, travertine pavers are an excellent choice combining aesthetic appeal with functionality and durability.


Travertine Veneer Installation
We offer the installation of travertine veneers on various outdoor surfaces as required. Travertine veneers are ideal for outdoor spaces as they provide an elegant and sophisticated appearance while highly durable and low maintenance.

These versatile veneers can cover outdoor surfaces like walls, steps, columns, and more, giving your outdoor space a seamless and natural look. Our team of experienced professionals ensures that the installation is carried out with precision and care, delivering a flawless finish that will enhance the beauty and functionality of your outdoor space for years to come.


High-Quality Travertine Structures and Installations
Travertine is an excellent material; we use it widely in landscaping projects. Since it is available in slab, paver, and veneer form, we can install it on various surfaces, structures, and elements. We know what is required to bring out its beauty and functionality on our client's properties.

Our team will answer your travertine questions and provide material guidance and design input. With us, you will always get timely completion and exceptional customer service. For more details about our hardscaping solutions for residential and commercial properties, please call Piracci's Landscaping, Inc. at 215-541-9202 or fill out our Online Form. Our team will gladly assist you.