Deck Pavers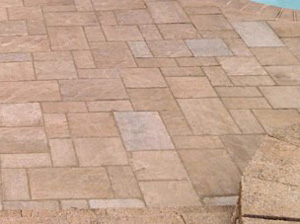 If you intend to build a deck that connects your home to a pool on your property, you must focus on selecting suitable materials. Because these surfaces are frequently wet and exposed to the weather, it's essential to pick paving products with slip-resistant, resilient surfaces. Deck pavers come in handy in this situation. We at Piracci's Landscaping propose these products to our clients when building outside spaces, notably pool decks.
Deck Paving Design Concepts
Located in Pennsburg, PA, we offer deck-paving services to residential and commercial clients throughout the surrounding region. We have become one of the most sought-after contractors in the area because of the excellent quality services we provide and the competitive pricing we maintain. Our team has a lot of experience and pays close attention to detail when building residential and commercial paver decks.
In addition to deck paver installations, we also offer these services as part of poolscape renovations or landscape remodeling projects to clients. No matter what kind of service you want, you can be assured that when you work with us, you're working with the finest.
Superior Paver Deck Design and Construction
In our work, we exclusively utilize pavers of the highest quality. Poolscapes benefit significantly from this durable and long-lasting material because of its outstanding traction and high level of resilience. Our highly skilled paver experts will complete the installation of these features to your complete satisfaction.
If you prefer, we can also install these pavers on pathways and walkways leading up to the structure on the property. We offer start-to-end solutions, ensuring that every task is completed skillfully and in a timely way.
Benefits of Deck Pavers
Interlocking concrete pavers for decks are a good choice for a variety of reasons, such as:
The forms, colors, and designs of these units vary widely. As a result, we're able to produce a variety of eye-catching patterns and designs for your deck.
When you choose high-quality paver units, maintaining your landscaping will be a breeze.
This feature is highly cost-effective for you because of how straightforward the installation is.
The textured surfaces of the pavers make them more slip-resistant, which makes your deck area safer. Products made of travertine are especially great for poolscapes as they are porous and cool on bare feet.
Design and Installation of Custom Deck Pavers
You can count on the expertise of our team of hardscaping designers to help you figure out precisely what type of solutions would work best in your yard. They will help you with the best landscape paver ideas, design themes, information on different products, and the newest design trends. The professionals will work with you, keeping your ideas, requirements, and budget in view while providing solutions. We complete the paver deck installation within the committed timeframe.
Please call Piracci's Landscaping at 215-541-9202 for additional information about our deck pavers and other solutions. You can also send us your queries through this Contact Us form, and we will respond shortly.