Landscape & Hardscape Services in Bryn Mawr, PA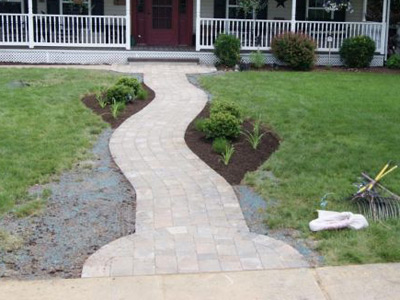 Piraccis Landscaping is the preferred provider of hardscaping and paving services. We prioritize meeting each customer's unique needs while staying within budget. Customer satisfaction is our priority, and we aim to surpass their expectations.

Our commitment to using premium materials and employing skilled artisans makes us stand out. By doing so, we aim to bring our customers' visions to life with high-quality, visually appealing hardscapes and paver installations in Bryn Mawr, PA. Our goal is to create outdoor spaces that not only meet but also exceed our customers' dreams and aspirations.


Design & Build
Our exhaustive landscaping services cover everything from design to build of various landscape features. Our skilled crew includes professionals with extensive expertise in the industry, such as expert installers, masons, and landscapers.

We ensure excellent results in every installation task, from the initial groundwork to the final touches. What sets us apart is our unwavering focus on quality, prioritizing excellence over profit. We always utilize the best materials, and our established relationships with leading suppliers and manufacturers allow us to access top-quality supplies promptly and efficiently.

With all the necessary landscaping equipment, we complete projects within the specified timeframe, earning the trust of our clients. Our exceptional service and results distinguish us from the competition.


Hardscaping
Our company offers superior hardscaping solutions that elevate outdoor spaces to new heights. With a team of skilled professionals and a wealth of industry expertise, we deliver outstanding results that surpass expectations.

Excellence is evident in every aspect of our work, from meticulous design to flawless installation. When creating stunning patios, elegant walkways, functional retaining walls, or captivating outdoor living areas, we approach each project with a focus on quality and attention to detail.

We understand that hardscaping is crucial in transforming landscapes, adding beauty and functionality. That's why we go the extra mile to source the finest materials, ensuring durability and longevity for our client's investments.

You choose quality, creativity, and professionalism when picking our hardscaping solutions. Our goal is to craft outdoor spaces that meet your vision and exceed your wildest expectations, turning your property into a stunning and functional haven for relaxation and enjoyment.


Deck Pavers
We specialize in designing and installing deck pavers, offering a wide selection of natural stone, concrete, and brick options. With an emphasis on craftsmanship and innovation, our team creates stunning, durable deck spaces that seamlessly blend with the surrounding environment.
Natural stone deck pavers add a touch of timeless elegance with various choices like travertine, flagstone, bluestone, sandstone, granite, and quartz. Each unique stone variety brings its distinct character to the outdoor space, creating a unique look.
Concrete deck pavers offer versatility and durability in various colors, shapes, and textures to complement any design concept. These pavers are excellent for modern, contemporary, or traditional settings, offering a cost-effective yet visually appealing solution.
Brick deck pavers are an ideal choice for a classic and enduring charm. With their rich color tones and enduring strength, they bring a touch of nostalgia to any outdoor area.

Whichever option you choose, our expert team will design and install deck pavers that elevate your outdoor living space, creating a beautiful and functional oasis that enhances your property's value and enjoyment.

Our company is renowned for its unwavering reliability, professionalism, and affordability. Clients trust us to deliver on our promises, consistently providing exceptional service and results. Our team of skilled professionals takes pride in their work, demonstrating high professionalism in every aspect of the project. Despite our top-quality services, we remain committed to offering competitive prices, making our solutions accessible to many customers.

For superior hardscaping and paving services in Bryn Mawr, PA, call Piraccis Landscaping at 215-541-9202. You can email your queries and requests via this Online Form.