Outdoor Fireplaces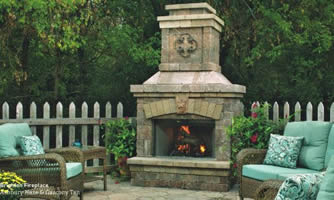 Piracci's Landscaping, Inc. offers complete landscaping services to residential and commercial property owners in Pennsburg and other Pennsylvania areas. Our expertise is not only limited to softscape installation but also include installing custom-designed fire features. We are the right people to hire if you want uniquely designed outdoor fireplaces and fire pits. These amenities are vital additions to your landscape since they provide warmth and comfort during chilly days and nights. You can also use these features to improve the aesthetic appeal of your outdoors. They are great add-ons on your patios, pool decks, and other outdoor living areas. Please contact us today so we can show you how we design and build these fire features. We have already installed numerous fireplaces for clients in Bethlehem, Center Valley, Coopersburg, Quakertown, and other key cities in Pennsylvania, so we are confident that we can also build an excellently designed fireplace in your property. Call us now at (215) 541-9202 or visit our office during business hours to discuss your project.
Concrete Fireplace
Do you have a limited budget but still want a professionally designed fire feature in your backyard? At Piracci's Landscaping, Inc., we have the right solution. We will build a custom-designed concrete fireplace in your landscape without ruining your budget. Whether it is a small fireplace or a large one, rest assured that we will use only the finest materials. The fireplace surround and mantel that we install are made from cast concrete, which is proven durable and fireproof. Our outdoor fireplaces are stylish and designed according to your desired color or finish. We will also pinpoint the right spot for your fireplace to let you enjoy its benefits.
Stone Fireplace
If you want to add another interesting spot in your landscaped area, install a stone fireplace. Your fireplace will easily make an impact in your outdoors because of the natural appeal of stone. We use stones that will match with the existing architecture of your home or theme of your landscaping. We may use small rounded boulders, flat stones, course volcanic rocks, or custom-carved stones if you want to achieve a uniquely designed fireplace. Some of the popular stones that we use for fireplace installation projects are granite, limestone, and slate. Thin stone veneers will also make your outdoor fireplaces more appealing. Some of the designs that you can choose from include ledgestone, ashlar, square, and mosaic.
Block Fireplace
Piracci's Landscaping, Inc. can also install block fireplaces in residential properties. Our block fireplace is guaranteed durable because it is built by our certified masons with extensive experience in fireplace installation. They follow proven installation techniques and use only top-quality concrete blocks. We recommend this type of fireplace because of its design flexibility. It can be designed according to your specifications and desired finish. To make it attractive, we highly recommend the use of faux or real stone veneers. With our well-designed and strategically installed outdoor fireplaces, you can now have areas in your backyard where you can relax and create memorable moments with your family and friends.