Aprons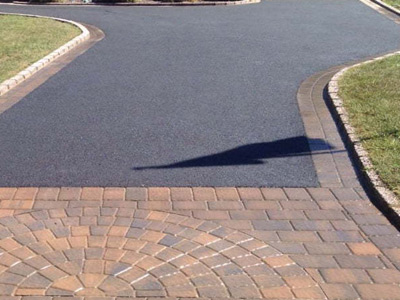 Aprons in outdoor spaces refer to the paved areas surrounding a building or structure, particularly around the perimeter of a house or a building foundation. Their primary purpose is to provide a transition zone between the foundation and the surrounding landscape, creating an aesthetic appeal that enhances the property's overall appearance.

Piracci's Landscaping, Inc. offers comprehensive apron design and installation on commercial and residential properties in and around Hatboro & Quakertown.


Why Your Property Needs an Apron
Aprons can be made of various materials, including concrete, stone, or pavers. They help protect the foundation from water erosion and damage while preventing debris, dirt, and vegetation from accumulating around the structure.

They also provide a level surface for walkways, outdoor seating areas, or additional landscaping features. As you can see, they are an essential component of any outdoor space, providing a practical and attractive way to traverse between the property and its surrounding landscape.


Types of Pavers We Use in Apron Installations
Commonly used pavers for outdoor apron installations include the following:


Concrete Pavers - durable and versatile, available in a variety of shapes, colors, and textures


Brick Pavers - classic and timeless, providing an old-world charm to outdoor spaces


Natural Stone Pavers - offer a natural, organic look and feel, available in various sizes, shapes, and colors


Travertine Pavers - provide a unique and elegant look, durable and easy to maintain


Bluestone Pavers - give a sophisticated and modern look, available in a range of shades of blue and gray


Porcelain Pavers - resistant to stains, scratches, and fading, available in a range of sizes, colors, and patterns


Slate pavers – These create a rustic and natural look, available in earthy brown, green, and gray tones.

We understand that properties are unique and recommend pavers matching your immediate aesthetic. We are creative and professional and offer the best value to our clients regardless of the job scope and size.


Unique Apron Installations
Our prime objective at Piracci's Landscaping, Inc. is to offer our clients unparalleled value through delivering exceptional services, adhering to project timelines, and ensuring a seamless experience at pocket-friendly prices. What sets us apart from our competitors is our unwavering commitment to meeting our client's unique expectations and preferences.

If you would like to learn more about our professional apron design and installation services, please don't hesitate to contact us at 215-541-9202 or by filling out our Online Form. Our team will quickly respond and engage with you to discuss your specific requirements.