Outdoor Living Projects in Doylestown, PA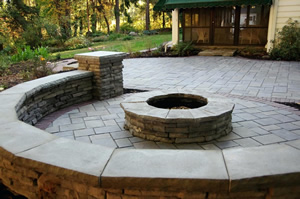 Transforming your backyard into a livable space is one of the best property improvement projects that you can work on. But you don't have to spend a fortune just to achieve your dream outdoor setting. With the help of outdoor living specialists, you can have your desired outdoors even if you have a small budget. Contact us at Piracci's Landscaping, Inc. and we'll help you create a perfectly designed outdoors complete with your chosen features and amenities. We've been doing this job for more than two decades now so we can assure you of well-designed outdoor features and amenities. Our portfolio includes some of the stunning backyards in Doylestown, PA and surrounding areas. We don't just build stunning landscapes but also develop awesome outdoor living areas. Please dial (215)-541-9202 to learn more about our design and build services.
Outdoor Living Services
Creating beautiful and functional outdoor living spaces is our specialty here at Piracci's Landscaping, Inc. You won't regret hiring us since we've been providing our expert services to countless Doylestown, PA homeowners for more than two decades now. Our specialists will perform a careful assessment of your outdoor space to determine the appropriate features to install. We consider your needs and future plans for the area when recommending specific amenities. Do you want a fully-furnished patio? How about an outdoor kitchen near the pool area? We can also install fire features in strategic spots so you can still enjoy the outdoor area during chilly nights. There are other great outdoor amenities that can enhance your backyard but we will only recommend those that will satisfy your needs and lifestyle.
Outdoor Fireplaces
You'll never enjoy your outdoors if there are no fire features such as outdoor fireplaces. These fire features will provide the much needed warmth during cold weather. But don't settle for a pre-built one since its design is too common. Opt for a custom-designed fireplace like the ones we build here at Piracci's Landscaping, Inc. Our customized fireplaces will easily complement with your outdoor theme or setup. You can also expect a well-built fire feature since we use only top-quality masonry materials. We typically use bricks and concrete blocks for their durability and appeal. However, the use of natural stone is becoming a popular option for most homeowners in Doylestown, PA. Our builders may combine these materials to come up with tough but elegant fireplaces.
Fire Pits
If you have a limited budget for fire feature installation, go for fire pits. This fire amenity can easily make your outdoor stay more comfortable and relaxing. Aside from the warmth it gives, it has other vital functions that make family bonding more fun and exciting. It is not surprising if a lot of families create good memories around this fire feature. At Piracci's Landscaping, Inc., we will make sure that your custom-designed fire pits are installed in their perfect spots. We may install a fire pit in the middle of your garden or install a portable one in your chosen outdoor living space. Your safety is our top priority so we also install fire screens, covers, and other accessories. If you're living in Doylestown, PA, you should have a fire pit in your patio, pool deck, outdoor kitchen, or any living space in your home.  Talk to us soon.
If you need any more information about our outdoor living projects & services in Doylestown, PA, you can contact Piracci's Landscaping at 215-541-9202. You can also send us your requests through this Online Form.