Landscape Lighting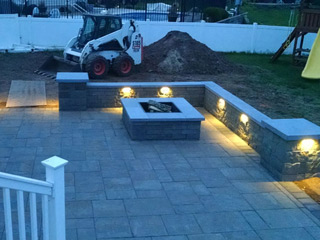 For anyone needing a top-tier landscaping service in the Pennsburg, Pennsylvania region, look no further than Piraccis Landscape. We provide various landscaping services to help you turn your yard into an inviting and functional outdoor space. Our landscape lighting services are the best, and we guarantee that your outside area will look better, be more usable, and be safer due to our work.


The Importance of Planned Landscape Lighting
Well-planned and installed lighting enhances your landscape's aesthetic value, practicality, and security. Using landscape lighting, you can make your trees, plants, and water features more noticeable. As a bonus, it simplifies going about your yard after dark without compromising your safety or security. Having the correct illumination in the right places can help with these issues.

We provide a wide variety of outdoor lighting options to our customers. A well-thought-out lighting plan can significantly improve the aesthetics and practicality of your outdoor area, and our team of experts is here to help you create one.

When you hire us to install low-voltage outdoor lighting, you can expect bright illumination without a corresponding increase in your energy bills. The LED lights we install are of the highest quality, designed to endure for many years while using very little energy.


Customized Services At Cost-Effective Pricing
Every property is different, which is why we provide flexible lighting options. We take the time to know our customers' needs and goals. In addition, we keep our prices low so that our services are affordable for anybody who needs them. We install different types of lighting fixtures, such as:
Spotlights
Floodlights
Path Lights
Deck Lights
Step Lights
Underwater Lights
Bollard Lights
Wall Lights
Range of Outdoor Lighting Installations
You can count on us to illuminate any of the following outdoor areas:


Pathways - Safely navigate your outdoors at night by lighting up all pathways, steps, and walks.


Trees - Installing lights that trace the contours of trees and shine on their leaves is a great way to draw attention to these natural features and enhance their aesthetic value.


Water Features - Fountains, waterfalls, and ponds can all appear even more enchanting with the help of adequately placed lights.


Garden Beds - Use low-voltage lighting to bring out the best in your garden's blossoming flowers and foliage.
We also install lights on patios, decks, outdoor kitchens, around poolscapes, and other outdoor spaces.


Cost-Effective Outdoor Lighting Solutions
We exclusively use long-lasting, high-quality lighting and equipment here at Piraccis Landscape. You can trust that our trained experts will work closely with you to tailor the layout of your lighting system to your requirements. If you need help keeping your lighting system in tip-top shape, we can help with that, too.

We can tailor our outdoor lighting services to each customer's specific requirements. We can help you build a lighting scheme that will improve the aesthetics and practicality of your outdoor area, whether you want to shine a light on your flowerbeds or draw attention to your trees. For more information about our customized landscape lighting solutions, please call Piracci's Landscaping at 215-541-9202. If you prefer to email us, write to us through this Contact Us form.