Outdoor Living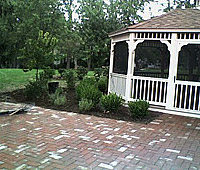 A new trend among today's homeowners is to transform their outdoor areas into spots where they can spend quality time with their family and friends, rather than just landscaping them. There is a wide variety of outdoor elements that we can design and install on your property ranging from decks to pergolas. We'll build them to your specifications and make sure your landscaping has a distinctive and appealing look.
Is your home's exterior or yard space uninspiring and drab? Do you feel that these areas are going largely unused and look unwelcoming? One of the most straightforward ways to increase your yard's usability is to install unique outdoor living features. We design and install all types of outdoor living structures, creating a welcoming and functional outdoor area that increases your property's value. Our team can provide superior outdoor living solutions, such as:
Outdoor Kitchens- An outdoor kitchen is a valuable addition to your property. You can cook in the open space while enjoying the greenery and beauty of your backyard.
Patios And Decks- If you want to enhance your yard's functionality, consider adding a patio or deck to the yard. These installations expand the indoor areas while allowing you to use the outdoor spaces optimally.
Fire Features- These elements add warmth and comfort to your yard and make it more welcoming. We use natural stone, brick, and concrete in the work and can also build seating walls around the fire feature to create a cozy zone for you and your family to relax and entertain.
Water Features- Our team is creative and skilled and can plan and install all types of water features such as waterfalls, fountains, streams, koi ponds and more.
Pergolas- A pergola can be a standalone structure or attached to your home's exterior wall, shading a patio or deck. These features create a shaded sitting area, passageway, or walkway. It is made using pillars or posts that support multiple crossbeams creating a sturdy lattice-like feature.
Custom-Designed Outdoor Living Features
We use high-quality materials to create outdoor living spaces that are long-lasting, attractive, and useful. Our experts work with you to ensure that every part of your outdoor area is tailored to suit your lifestyle requirements. We focus on customization and quality and that means we use the best-grade materials and products. We can build retaining walls with inbuilt seating along patios and decks and enhance your poolscape's appeal by adding a fire feature or water feature to it.
Design and installation are handled in accordance with industry standards after a thorough discussion with you. We provide our customers with the finest, most lasting, and easy-to-maintain outdoor spaces. You can count on us to deliver your project on schedule, on budget and with guarantees. If you're looking for help with outdoor living improvements or renovations, our company is here for you.
For any more information about our custom landscaping services in Abington, PA, feel free to contact Piracci's Landscaping at 215-541-9202. You can also send us your requests through this Online Form.