Hatboro &
Quakertown
Premier Design
Build Firm
Outdoor Living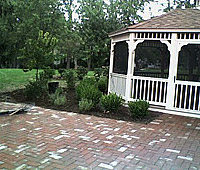 We at Piracci's Landscaping, Inc. will design and build the perfect outdoor retreat for you to enjoy with your family and friends for many years to come. This outdoor living area could include just a simple small patio with the sound of a waterfall, or could be a series of terraces with fireplace and outdoor kitchen, accompanied with a gazebo or pergola. Whatever your needs are Piracci's Landscaping, Inc. can bring the concept to completion, affordable for you.
Realizing Your Dream Outdoor Space
Piracci's Landscaping, Inc. can help you realize your dream outdoor space. We do not just create outdoor features -- we ensure that the amenities will transform your property into a more functional, more attractive, and safer outdoor space. Our dedicated landscapers and craftsmen have been serving clients in Pennsburg, PA and nearby areas for more than 20 years, so they know the features that will best suit for your property. Since we are updated on the latest outdoor living trends, we can suggest the perfect amenities to build and install. We provide you with custom designs that satisfy your needs and lifestyle.
Great Outdoor Living Features
You can improve the function and appeal of your outdoor space by transforming available space into usable areas. We can help you do this by choosing the right features for your outdoor areas. These outdoor living features include patios, decks, gazebos, fireplaces, and outdoor kitchens.
Patios. Is the patio mainly for relaxing? Sunbathing? Alfresco dining? Or a combination of all three? Your intended use will determine the size and location of the patio. For example, enclosed and roofed patios are best used for dining since you can use them any time of the day. The enclosure will also keep you safe from the outdoor elements. Some patio designs may incorporate built-in seating, like made-for-outdoor couches, and even hedges, pergolas, and retaining walls to provide a sense of privacy.
Decks. Decks are all about leisure - but they could go beyond the simple BBQ grills and lounge chairs. Custom additions, such as roofs, window seats and built-in benches, railing gates or other entryway features, and foliage, can transform a simple deck into a safe, cozy, and inviting haven right in your home.
Gazebos. They are nice additions to any garden where you can spend sunny mornings reading the paper or just relaxing to music. Built-in sofas, benches, and even a hammock can make up a comfy gazebo. We can add screens to keep pests and insects away. Gazebos can also be built into larger patios.
Fireplaces. Outdoor fireplaces simply create a stunning visual setting to any home, increase your property value, and offer a stimulating area for entertaining family and friends. Our custom-built fireplaces will keep the smoke away from your outdoor entertainment areas. We also use a variety of styles and materials to perfectly match your already existing outdoor furniture. Outdoor fireplaces can be added to patios, gazebos, and outdoor kitchens. Fire pits are also great additions to your outdoor living amenities.
Outdoor kitchens. Outdoor kitchens can be large or small, from a modular unit with a simple grill and countertop to a custom-designed, fully operational outdoor kitchen replete with grills, counters, refrigerators, sinks, and storage cabinets. This feature can be installed near patios, pools, gardens, or almost anywhere that you prefer to have an enjoyable outdoor living space.
Long-lasting Outdoor Living Features
We create long-lasting features for your outdoor spaces by using premium materials. Our highly skilled team will achieve your desired outdoor area by ensuring quality craftsmanship. We may also incorporate other architectural elements, such as fountains, landscape lighting, path and flooring materials, pottery, and statuary to give outdoor spaces that inspire and awe.
Call us today at (215) 541-9202, and let us design a nice, attractive, and fully functional outdoor living space for you!
We Provide Services to the Following Cities and Towns in PA:

Contact Us