Hatboro &
Quakertown
Premier Hardscaping &
Landscaping Company
Hardscaping Ideas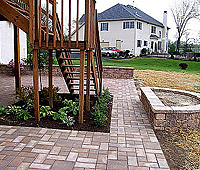 Landscapes are a combination of softscaping and hardscaping. The latter are the masonry features that lend solidity and stability to the landscaping. Various materials such as concrete, brick, natural stone and aggregates are used in the work and many other attractive and long-lasting materials such as pavers and concrete blocks are used as well.
Piraccis Landscaping provides excellent hardscaping services to customers in and around Doylestown, Quakertown, Coopersburg as well as Center Valley. They have also handled a large number of projects across Solebury, Harleysville, Perkasie, Tinicium, Pennsburg and Redhill; and provide a range of services including:
Pavers
The outdoor areas on your property see a lot of wear and tear and they are almost always exposed to the elements. This means, over time they start looking very dull and drab and their condition deteriorates as well. The one way to ensure that these spaces are able to weather the climatic changes, is to opt for resilient and durable  materials such as pavers made of brick, natural stone or concrete.
Clay Pavers
Clay has been used in landscaping projects for a number of years now and clay pavers are a widely-used material. These are kiln-dried units that are available in a range of shapes, sizes, colors and designs. You can also choose to get interlocking pavers installed and these create a very strong and stable flooring installation.
Patios
Many people like to get patios installed on their property; the feature is very popular because it automatically increases the available living space and is a great way to enjoy the outdoor areas of your property. You can also choose to get an outdoor kitchen installed there and can have pavers installed for the flooring. Adding a fireplace is another way to add to the functionality of the place.
Retaining Wall
If you have sloping land that has to be excavated to make space for any outdoor feature, that can leave a lot of slope exposed, which can lead to soil erosion and mudslides. Building a retaining wall there is one way to provide support to the landscape and create a space that is well-demarcated and functional. These retaining walls can be built using CMUs (concrete masonry units), natural stone, bricks etc.
Landscaping
The landscape on your property should be planned well if you want it to look good and add to the functionality and value of your property.  You can hire the services of a good landscape company for the job and they will ensure the features are planned and installed using the best materials. These spaces will have the right blend of plantings, masonry, water features and other decorative features. That will ensure the longevity of the landscaping and the features will stay in a good condition for a number of years.
If you want excellent hardscaping solutions, it's important that you hire the services of a company that provides you with all-round solutions, like Piraccis Landscaping at reasonable landscaping cost. A well-designed landscape adds to the beauty, functionality and value of the property.
<< Back to ARTICLES
We Provide Services to the Following Cities and Towns in PA:

Contact Us