Landscape Design and Build in Center Valley, PA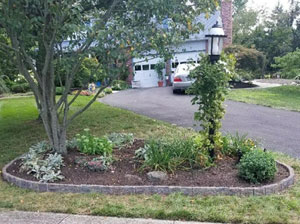 Having aesthetically appealing and sustainable landscaping on your property is a lot about focusing on the right design and build concepts for your property. It is best to hire professionals like the ones at Piraccis Landscaping, for this job. Our company has been providing high-quality landscape design and build solutions to clients in and around Centre Valley for over 30 years now.
Custom Landscape Design Services in Center Valley
In this time, we have proved our expertise in the field and offer cost-effective landscape planning solutions that meet the needs of our clients. When you hire us for this job, we adopt a very systematic approach to the project, and these are the general steps we follow:
We will set up an appointment at a time convenient to you.
Our team of designers will have little discussions with you to understand what your specific wants and needs are.
They will evaluate the site and make a note of any obstacles that may exist on the property.
The team will make a note of all the features that exist there, such as large trees, plants, etc.
Keeping all this information in view will create new landscape designs and plans that are in line with your preferences, suitable to your site and budget.
During the consultation, our team will take the time to understand your specific needs and ideas so that the output is as you envisioned it to be.
Landscape Installation Services
We understand that every client will have requirements in terms of the types of landscape installations and features that they want. Keeping this in view, we offer comprehensive landscape installation solutions and can plan and build a wide variety of hardscaping features, including:
Retaining Walls
Patios
Poll Decks
Walkways and Pathways
Paver Installations
Brick Installations
Natural Stone Features
Custom Fire Pits
Flagstone Installation
Outdoor Kitchens
In addition to all of these, we also handle every aspect of the project, including:


Excavation and Hauling
Small Demolitions
Topsoil Installation
Bulk Mulch Supplies
Cobblestone Installations
Labyrinths
Reliable Landscape Design and Build Company
As a company with extensive experience in this industry, we have the resources, skills & knowledge required to handle all these projects to industry standards. Whether you need softscaping installed or hardscaping features added, we can help.

Not only do we handle new landscape design and construction projects, but we also help with all types of yard and landscape upgrades. You will find that our high-quality solutions come at competitive landscape design and build cost, which provides you value for money.
For any additional information about our landscape design and build services in Center Valley, contact Piraccis Landscaping at this number- 215-541-9202. You can also send us your project details via this Online Form.