Landscape Design in Bethlehem, PA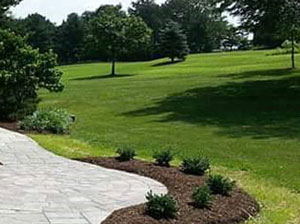 Improving the appearance of your landscaping and making it functional, practical, and durable, involves choosing the right kind of features and hiring expert landscapers for the job. While many different companies offer these landscaping services in Bethlehem, PA, not all can provide the perfect balance of functionality, reliability, and cost-effectiveness.
At Piraccis Landscaping, we offer high-grade landscaping solutions to residential and commercial clients in Bethlehem, PA. Our team of experts is here to help with every aspect of designing and planning your landscape. They make sure that all the features are the perfect addition to your property. The range of services we offer includes:
LANDSCAPE DESIGN & BUILD
We offer custom landscape design and build solutions and ensure that our clients get the kind of features and spaces that they will enjoy using every day. Our team of landscape designers in Bethlehem, PA, works very closely with you to make sure that they have a good understanding of what your requirements are before they create the plans and layouts for the outdoor spaces. When they are designing these areas, they also provide material samples and their insights to ensure that these spaces are superb in every way. You can be sure that all the softscaping and hardscaping features in your landscape will be designed to balance each other perfectly.
HARDSCAPING SERVICES
Hardscapes are the foundation of all the outdoor areas of your property. These are installed in the first stage of a landscaping project. We offer high-quality hardscaping solutions, which include everything from the design and construction of retaining walls, driveways, walkways, pathways as well as fire features, water features, boundary walls, and more. A variety of materials could be used in these features, including pavers, natural stone, brick, aggregates, concrete, boulders, as well as river rock, pebbles, and more. We use the latest installation techniques to ensure that your hardscapes in Bethlehem, PA, are durable, appealing, and easy to maintain.
OUTDOOR LIVING DESIGNERS
One of the best ways to increase the usability of the available yards spaces is to get unique outdoor living features designed and installed. We provide high-grade outdoor living solutions, which include everything from patios, decks, pergolas, arbors, as well as pavilions, fire features, and more. We use the right kind of materials so that your outdoor living spaces are durable, appealing, and increase the functionality of the available areas. Our team of outdoor living designers in Bethlehem, PA, works with you to make sure that every aspect of your outdoor spaces is designed to meet your lifestyle needs.
LANDSCAPING COMPANY IN BETHLEHEM
If you want to make the best use of the outdoor spaces on your property, it is necessary to ensure that you hire expert landscapers for the design and construction. We offer the best landscaping solutions and cover everything from design and planning to build, site work, grading, and more. Our company has the skill, expertise, and resources to tackle the construction of softscaping, hardscaping and all other elements in your landscape.
For any more information about our custom landscaping services in Bethlehem, PA, feel free to contact Piraccis Landscaping at 215-541-9202. You can also send us your requests through this Online Form.