Hatboro &
Quakertown
Premier Hardscaping &
Landscaping Company
Landscaping Ideas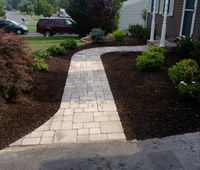 Creating outdoor spaces that are attractive and functional is never something that happens by chance. In fact, it takes a considerable amount of skill and planning to ensure that the entire area is surveyed well, defined properly and then designed and installed well. There should also be the right balance of features if you want spaces that are low-maintenance and aesthetically appealing.
Piraccis Landscaping provides excellent landscaping services to customers in and around Doylestown, Quakertown, Coopersburg as well as Center Valley. They have also handled a large number of projects across Solebury, Harleysville, Perkasie, Tinicium, Pennsburg and Redhill. The different solutions they provide include:
Landscape
Your landscape will be functional only if it's planned well. Aside from this, it's important that the contractors use the right kind of materials and workmanship. Only when all these aspects are in place, will the gardens and yards last for a long time and stay looking attractive and well-maintained too. This is why hiring a good landscaping company for the job is very important. A landscape is always a combination of various features including plants, trees, flower beds, planters and masonry features such as retaining walls, paved spaces etc.
Landscape Design
Landscape planning and design is a job that only specialists will be able to expertly handle. When you hire experienced and skilled professionals for the job, they will ensure that every space is designed well. In addition they will make sure that the right mix of elements and features are used and that skilled personnel handle the installation. This methodical approach is important if you want landscapes that are resilient and long-lasting, with features that will stay looking good for a number of years.
Lawn Care
Lawns are almost an integral part of most landscapes and most properties have at least a small grassy patch on them. These areas look stunning and add to the greenery of the yard and garden. Regardless of the size of the turf and the kind of grass that grows on there, it's important that it be maintained well. A good landscaping company will provide you with the kind of solutions you need and will create custom turf care plans that include various aspects such as aeration, mowing, de-weeding, re-sodding, pest control etc.
Landscapers
When you want any landscaping work done, it's crucial that you pick the landscaping company with care.  While there will be a number of companies that provide similar services, very few will ensure you get customized solutions at pricing that fits into your budget and requirement. This is why it becomes important to hire experts that have experience in the field. They will survey the space, understand what kind of elements that exist there and then provide the right services. Look for a local company that has a good reputation. 
If you want excellent landscaping solutions, it's important that you hire the services of a company that provides you with all-round solutions, like Piraccis Landscaping at reasonable landscaping cost.A well-designed landscape adds to the beauty, functionality and value of the property.
<< Back to ARTICLES
We Provide Services to the Following Cities and Towns in PA:

Contact Us