Drainage, Grading and Flower Bed Maintenance in Allentown, PA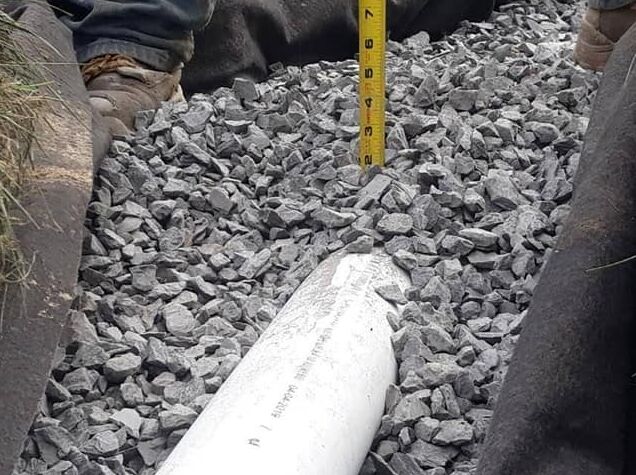 Beautiful landscapes that are practical, function well, and are long-lasting require various features, installations, and regular maintenance. As a property owner, you know exactly how much time and effort go into all these tasks.
You need to have a reliable and knowledgeable landscaping expert who would be able to provide you comprehensive services under a single roof. This is where we at Piraccis Landscaping come into the picture. Over the past 30 years, we have provided commercial and residential clients in and around Allentown with high-quality drainage, grading as well as flower bed maintenance solutions.
Drainage & Grading Designs and Plans in Allentown
In any landscaping project, these two aspects go together. Just as you need to have the right kind of drainage systems installed, it is also necessary for the land to be graded correctly for the landscape drainage installations in Allentown to work correctly.
We have in-depth knowledge about these aspects and make sure that the drainage systems that we design and plan for you will meet the needs of your landscaping. Before carrying out any drainage installations tasks, we make sure that outdoor areas are graded correctly. These jobs involve:
Complete Site Evaluation in Allentown
Laser Elevation Work
Erosion Control
Proper Grading
Installation of Underground Piping, Inlets, And Outlets
Installation of French Drains, Sales, And Burns
Sump Pipeline Installation
Piped Downspout Installation
Interior and Exterior Foundation Waterproofing
As you can see, we have you covered when it comes to handling any grading and drainage jobs. These could be part and parcel of a new landscape installation in Allentown. However, if you find that the existing drainage system on your property is inadequate, inferior, or functioning erratically, give us a call, and our team will visit your premises to determine what is wrong. They will provide suitable solutions to solve the problem.
Flower Bed Maintenance in Allentown
Flower beds add beauty, color, texture, and balance to a landscape. It is why our Allentown landscape designers recommended the inclusion of different types of flowering plants in landscape designs.
However, it is crucial to maintain the flower beds correctly if you want your plants to thrive and bloom at different times of the year. We provide comprehensive landscape care solutions, which also include flower bed maintenance in Allentown. The various services that could be part and parcel of maintaining flower beds on your property include:
Testing Topsoil Composition
Applying Fertilizers
De-Weeding the Flower Bed
Ensuring That the Drainage System Is Working Correctly
Applying Pre-Emergent and Post-Emergent Weed Control Products
Trimming and Pruning
Replanting
Other
Cost-Effective Landscape Maintenance Services
If you need any new flowering plants installed in Allentown, we can also provide you with consultation services about the types of plants that are best suited for your climate, as well as the overall aesthetics of your landscaping. Whether you require grading and drainage installations or need your flower beds maintained in Allentown, we are here to help.
For any additional details about our custom drainage installation services in Allentown, contact Piraccis Landscaping at this number- 215-541-9202. You can also send us your project details via this Online Form.