Drainage & Grading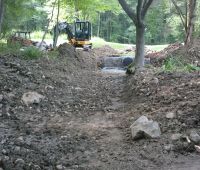 We at Piracci's Landscaping, Inc., have corrected many of the customer' drainage & grading issues. Whether you have a soggy backyard, a large puddle after a rain, or a wet basement, Piracci's has the expertise and years of experience to evaluate the best solution to either correct or manage the problem. So your yard or basement can be useable again. Contact us today to set up a few consultations and written estimates. When you call Piracci's you will know exactly what your problems are and how we plan to correct them.
Site evaluation & laser elevation work (take the guess work out, know the facts)
Erosion Control
Grading
Swales, burms, and French drains
Inlets, underground piping, outlets
Downspouts piped, and sump lines piped
Foundation waterproofing – both interior & exterior
Experts in Drainage and Grading Works
When you hire Piracci's Landscaping, Inc. to work on drainage and grading projects, you are already assured of outstanding results. Our company has more than two decades of experience in the installation, repair, and maintenance of residential and commercial drainage systems. As a landscape contractor, we have completed countless grading projects for clients across PA. These projects were all done according to specifications and industry standards, so our clients are now enjoying more functional and safer outdoor areas. The highly efficient drainage systems that we have designed and installed on our client' properties are also proven durable. They are made from the finest materials, which are all sourced from reputable suppliers and manufacturers in the country. Meanwhile, the proper installation of these features is ensured by our well-experienced crews. 
Our company also follows systematic procedures when working on drainage and grading projects. We always perform site evaluations before we start a project to avoid any guesswork during the implementation. With the right information, it is easy for us to suggest the best solutions to our clients. This will also help us create a more efficient design plan and reduce the total cost of the project.
Complete Tools and Equipment
Most property owners from Pennsburg and nearby areas we serve choose us over our competitors because of our complete tools and equipment. Piracci's Landscaping, Inc. has invested a lot in modern and specialized tools and equipment to improve our capabilities. Aside from our special tools, we can deploy heavy-duty equipment to large projects. We can send a backhoe, grader, trencher, compactor, and other vital equipment to client's property when needed. These are all manned by properly trained crews, so you are assured that the job will be performed accurately and safely.  Because of our modern tools, we always complete projects ahead of schedules. This is another reason why we have a lot of repeat customers in the areas we serve.
Can Handle Residential and Commercial Projects
Residential and commercial property owners should contact us now if they want to ensure the reliability and efficiency of their drainage systems. We are also the right company to call if there are some areas in their property that need to be graded. We can level slopes to allow the installation of new landscape features, such as outdoor living amenities. Proper grading is also needed if the existing topography of the area is prone to flooding and water run-off.

At Piracci's Landscaping, Inc., you can rely on our capabilities and lengthy expertise in handling drainage and grading projects in residential and commercial properties. We can expedite the completion of the project without compromising quality and design. We ensure that every stage of the project is done according to the design plan and specifications.

Call us today at (215) 541-9202 to get more details about our drainage and grading services. We offer free cost estimates, so you won't have to worry about spending beyond your allotted budget. You are also assured that there will be no more flooding in the landscape, water leaks in the basement, or eroding soil in your landscaping.