Landscape Design & Build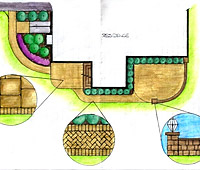 We at Piracci's Landscaping, Inc. start your design process by setting up a convenient time that is suitable for you. We then LISTEN to your needs and wants. From here we evaluate your site, and bring any obstacles to your attention. From there we will create a new design that is cohesive to both your site and your budget. We will utilize our 30 years of experience, the latest design software and our vast resources of many products and materials to bring to you just what you are looking for. Please don't hesitate to contact us today for your free consultation and written estimate. And join our many satisfied customers.
Retaining Walls
Walkways
Patios
Pavers
Brick
Flagstone
Natural Stone
Boulders
Custom Fences
Excavating & Hauling
Topsoil
Bulk Mulch
Cobblestone
Small Demolition
Fire Pits
Outdoor Kitchen
Labyrinths
Creative Landscape Designers
The key to achieving a stunning landscape begins with a sensible design plan. For residents of Pennsylvania who are looking for a reliable landscape design and build firm, we at Piracci's Landscaping, Inc. employ skilled designers with exceptional creativity. Our landscape designers use their creativity to come up with great and unique designs using the latest design software. For us, there's no limit to what a landscape should look like, which is why our designs are always out of the ordinary.
For example, we can make a small space look more attractive or more functional by adding outdoor living amenities like a gazebo, pool deck, and outdoor kitchen. We also include softscapes such as annuals and perennials, hardscapes like fire pits and retaining walls, and water features such as pools and ponds. Additionally, we can come up with specific landscape themes based on client preference. We can design a landscape to mimic a Zen garden, a Mediterranean resort, or a contemporary American retreat. Just let us know your design requirements, and we'll incorporate them into our design proposal.
Expert Installation of Landscape Features
Our design and build services include expert installation of all kinds of landscape amenities. Our in-house crews include installers, masons, and landscapers, who are professionally trained and have with them lengthy experience in creating various landscape features. Our people can take on any technical landscape installation job with guaranteed exceptional outcomes. We can handle everything from site preparation to installation of amenities.
Unlike other companies that tend to scrimp on the materials they use to gain bigger profits, we use only top-notch materials to ensure the exceptional build quality of each structure we install. We have long-standing partnerships with trusted manufacturers and suppliers, so it's easy for us to source the right materials for the projects we handle. Likewise, we have complete landscaping tools and heavy equipment, so work proceeds smoothly and without unwanted delays. As a result, we complete projects on time and with the outcome that clients expect.
Trusted Landscape Design & Build Firm in PA
If you live anywhere in Dublin, Solebury, Hatboro, or other PA cities that we serve, you can easily reach us to avail our design and build services. For more than 30 years now, our company has worked on numerous projects that require creative design and expert installation of hardscapes, softscapes, fire amenities, and water features.
Throughout the years, we have managed to gain clients' trust one project at a time. Ultimately, we have become the go-to company for all types of landscaping tasks.  We deliver unmatched design and build services and unquestionable dedication to provide total client satisfaction. With close to a quarter of a century's worth of experience, we have handled some of the most challenging projects that any landscaping company can possibly face. The lessons we learned from our past projects have made us well-versed in the appropriate solutions to every imaginable landscaping concern. Finally, our reasonable rates allow us to provide our services to the greatest number of property owners possible.
Please contact Piracci's Landscaping, Inc. today at (215) 541-9202 to learn more about our value-for-money design and build offerings. We look forward to serving you soon.