Landscape Maintenance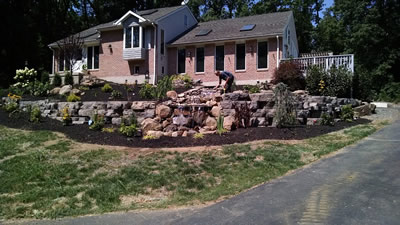 The design and build of your landscape should always be handled by expert professionals in the field. Once all the landscape features have been installed as per the plans provided by the designers, it is also very important ensure that all the areas are maintained with regularity. Lack of maintenance can result in early deterioration of your landscape.
Regular wear and tear as well as exposure to the elements can cause various features to start looking old and become damaged quickly as well. This is where our landscape maintenance services come into the picture. We at Piracci's Landscaping, Inc. are a leading company in the landscaping space and cater to companies in and around Bethlehem, Bedminster and Buckingham.
We maintain small and large landscapes throughout Center Valley, Chalfont, and Coopersburg. Our consistently high-grade yard maintenance solutions have helped enhance the appeal and value of properties in and around Doylestown Dublin as well as Hatboro. Many clients in Gladwyne, Gwynedd Valley and the surrounding areas trust only us for all their landscaping needs.
Range of Landscape Maintenance Services
Keeping abreast of landscape maintenance tasks can help ensure your outdoor spaces look great and that your investment is well-protected too. Choosing a local landscaping company with knowledge of different types of plantings, soil and masonry products, can help ensure you get excellent landscape maintenance solutions. We understand that when it comes to residential landscape maintenance, you need the services of a contractor that would be able to provide you with all-round solutions. We have the knowledge, skill as well as resources to handle all aspects of landscape maintenance such as:
Softscape Maintenance
Seasonal gardening
Dethatching
Bed care
Seasonal mowing
Hedge & tree trimming
Over-seeding/ re-sodding
Weeding
Ornamental shrub fertilization
Lawn care and maintenance
Landscape De-weeding
Pest control
Fertilization
Plant healthcare
Mulch installation
Seasonal containers garden planting
Tree and plant trimming and pruning
Irrigation and drainage system maintenance
We use a variety of organic fertilizers, insecticides pesticides and other plant care products in our work. This goes a long way in maintaining the health of all the living features in your landscape.
Hardscape Maintenance
Paver repairs
Paver clean & seal
Paver sanding &paver joint stabilization
Leaf blowing & debris removal
Retaining wall maintenance
Cleaning stone veneer and cladding
Brickwork Cleaning
Hardscape sealant applications
Maintenance of outdoor features such as pergolas, decks, patios etc.
Other
While masonry elements are hardy, they need regular cleaning and care. We use non-toxic cleaning agents in our work and make sure that every feature is installed methodically and with attention to detail. We use the best quality sealants for all the paved areas and this helps prevent the surfaces from becoming stained, scratched or dirty.
Landscape Maintenance Plans
We understand that every landscape is different, which is why we go the extra mile to custom design landscape maintenance packages for our clients. These would take into account the specific features, plantings, and trees that you have on your property. Our customized and professional approach, reliability and top quality customer service set us apart from other operators in this space.
If you are looking for a company that provides excellent landscape maintenance services, Piracci's Landscaping, Inc. is the company to call. Feel free to call us at and discuss your project details with your clients. You also have the option to send us queries via this Contact Us form and we will respond quickly.