Landscape Maintenance Guide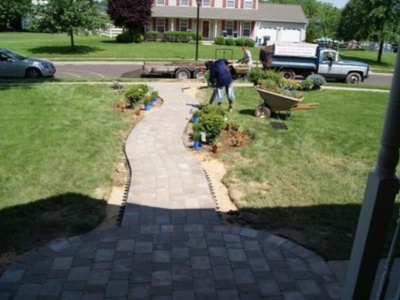 You can transform an overgrown yard into a tranquil oasis with regular landscaping maintenance. Different landscaping styles will better meet your needs, whether you're looking for simple lawn care and maintenance or more complex landscaping services.
It is possible to hire a landscaper to carry out the landscape plans you have created in your head. If you hire a landscaping company, they will take care of all your landscaping needs. Piracci's Landscaping, Inc. offers various landscape maintenance services to home and business owners.
A Guide To Effective Landscape Maintenance
Among the many things you can do to keep your property's landscaping looking healthy and flourishing are:
Lawn Fertilization
Keeping your lawn fertilized and free of weeds throughout the season is essential to keeping it in good condition. You can only achieve an evenly green lawn devoid of brown spots through regular fertilization. The first step is to provide your grass and soil with the care they require at the correct times. Lawn growth depends on the roots drawing nutrients from the ground and the watering schedule. It is possible to keep turf grass at its peak of development with the help of fertilizer when natural soil processes cannot supply enough of these essential elements.
Flower & Plant Pruning
It's common knowledge that all plants develop, but some have different care requirements than others. Pruning is best done for certain plants' growth cycles at specific points in the year. Plants with beautiful flowers are a great illustration of this. If you pruned a flowering shrub a few weeks before it was supposed to bloom, you would likely have removed most of the flower buds. As experts recommend, pruning should be done no less frequently than once every three months. Many people maintain their landscape beds every month to prune their plants at the optimum time.
Tree Trimming
Pruning a tree's branches serves many purposes, all of which contribute to the tree's improved appearance and functionality. Though trees can thrive without regular trimming and pruning, doing so will ensure they flourish and last as long as possible. For optimal tree health, it's essential to perform regular trimming by removing any dead, dying, or diseased branches, as well as any, crossed or rubbing branches and their stubs. Allowing more light and air to penetrate the tree's canopy increases foliage and reduces the likelihood of disease.
Sprinkler Systems
It's great to be able to sleep in with the knowledge that your sprinklers are taking care of all your irrigation purposes, but you should still check it regularly to ensure it's in good working order. With proper maintenance, your system will continue to serve you well for years. You should service the sprinkler system at least two times a year. Clean your system twice a year, once in the late fall and once in the late spring, paying particular attention to any clogs before putting it away for the winter. You can save time and money if you know how to maintain and inspect your sprinkler system. Also, the grass on your lawn will remain healthy and vibrant due to your efforts.
Cleaning Debris
Your lawn's maintenance needs will shift as the seasons change. Your property will require more attention in the fall and spring. A landscaping service will tidy your yard by raking leaves, removing weeds, and edging flowerbeds. They will cut back perennials so they can flourish again in the spring. As the seasons change, you should expect a clean-up in the spring and again in the fall.
For further information on landscape maintenance, get in touch with Piracci's Landscaping, Inc. via this Online Form, or call us at 215-541-9202, and we will get back to you within the shortest possible time.
<< Back to ARTICLES