Hatboro &
Quakertown
Premier Hardscaping &
Landscaping Company
Retaining Wall Ideas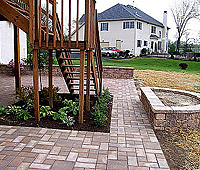 If you have sloping land on your property and want to build any feature on it like an outdoor kitchen, a driveway, walkway or any other outdoor installation, you would have to get the slopes excavated. The exposed rock and soil can't be left without some support and that's where retaining walls are built. These could be made of concrete, natural stone or brick as well.
Piraccis Landscaping provides excellent retaining wall services to customers in and around Doylestown, Quakertown, Coopersburg as well as Center Valley. They have also handled a large number of projects across Solebury, Harleysville, Perkasie, Tinicium, Pennsburg and Redhill. The varieties of materials used in the work are:
Retaining Wall Blocks
These are concrete masonry units that are very strong and durable and they have a modular structure. These blocks can be used to build walls of any length & height. If you don't like the appearance of the plain concrete, you can choose to get the surfaces clad with stone or brick veneer of your choice.
Concrete Blocks
When retaining walls are being built, care has to be taken that very hardy and durable materials are used in the work. Modular concrete blocks are very commonly used in the construction of retaining walls. These are extremely resilient and are ideal for building specially engineered walls to prevent soil erosion or to demarcate spaces in the landscape.
Building A Retaining Wall
The construction of a retaining wall is something that has to be handled only by expert masons. These walls are very different from standard garden walls or boundary walls and they are specially built to provide support to the landscape, to demarcate different areas and to add to the value of the property. The retaining wall installers will survey the space and then provide a plan that matches the requirements of their clients and provides the landscape the support it needs.
Retaining Wall Design
The design of the retaining wall is another aspect that has to be taken into account when it is being built.  While some of the walls are just simple structures they can also be built for dual functions. For instance, the walls can have in-built seating in them or they may also have a planter built into the structure.
Block Wall
A retaining wall may also be referred to as a block wall. This is because concrete blocks are used in the construction and these can also be clad with veneers made of natural stone or brick. The landscape designers will plan the wall based on the available space and will also  focus on incorporating seating  and lighting features  into the structure, if the requirement calls for it. These blocks are very sturdy and can be used to build walls of any height & length.
If you want excellent retaining wall solutions, it's important that you hire the services of a company that provides you with all-round solutions, like Piraccis Landscaping at reasonable landscaping cost. A well-designed landscape adds to the beauty, functionality and value of the property.
<< Back to ARTICLES
We Provide Services to the Following Cities and Towns in PA:

Contact Us