Stone Work & Veneer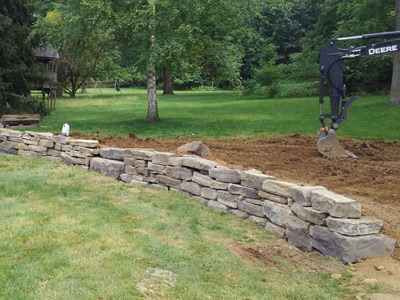 Even if you take great care while designing and constructing your outdoor area, the materials and hardscaping can deteriorate with time. Outdoor materials are vulnerable to the ravages of time and the elements, including rain, wind, and snow.

Wear and tear on outdoor components might also result from misuse, abandonment, or accidental damage. Therefore, it is essential to do periodic maintenance, repairs, and restoration to guarantee the continued functionality, safety, and aesthetic appeal of your outdoor environment.

Regardless of the hardscape repairs and restorations you need, we at Piracci's Landscaping, Inc. are here to help. We have over 30 years of industry experience, and our team has helped restore all residential and commercial landscapes. No matter how complex or severe the damage to the hardscaping is, we have the knowledge, skills, and resources to restore it to its previous conditions.


Range of Restorations We Handle
We thoroughly assess the damage or wear and the types of materials used in the structure or feature. Based on our assessment, we will design and discuss a strategy with you. We offer comprehensive hardscape restoration services such as:


• Cracks in concrete or pavers - Restorations may involve filling in cracks with new materials and sealing the surface to prevent further damage.

• Fading or discoloration of materials - Restorations may involve pressure washing, staining, or painting the surface to restore its appearance.

• Settling or shifting of materials - Restorations may involve re-leveling the surface and securing it with additional supports.

• Stains or damage from chemicals or oils - Restorations may involve cleaning the surface with specialized chemicals and repairing any damage with new materials.

• Weather-related damage, such as frost heave or erosion - Restorations cover repairing the affected areas and reinforcing the surface to prevent future damage.

• General wear and tear or neglect - The job may involve replacing damaged materials, reinforcing weak areas, and performing regular maintenance to prevent further damage.
Reliable and Efficient Outdoor Restorations
As you can see, we offer comprehensive hardscape restorations in line with industry standards. At our company, providing value to our clients is paramount. We provide that value by offering high-grade services, focus on timely completion, and a seamless experience at cost-effective prices.

We complete every job to client expectations and preferences, which sets us apart from others in the field. For more details about our restoration services, please call Piracci's Landscaping, Inc. at 215-541-9202. You can write to us through this Online Form, and our team will revert as soon as possible to discuss your requirements further.